Afternoon in Bormio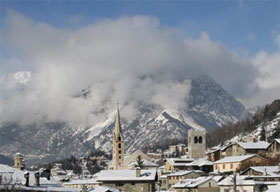 Winter
What you need after a sporty or a lazy morning is a warm, relaxing and toning up bath in the healthy waters of the spa, you'll be in fine fettle for the night.
Before dinner, both in winter and summer, you can't miss the usual walk in the centre and the aperitif in one of the local pubs and café.
Summer
If your "walking morning" has been quite hard you just have to lay down in the sun and relax in one of the many solarium terraces equipped with deck-chairs for you and toys for your children.
Have a walk in the centre before dinner, you may have a drink and snack in an indoor or even outdoor cafés.