Young in Bormio, what to do?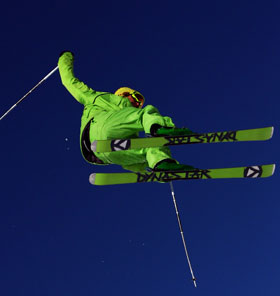 If you like having fun, you just can take your pick in Bormio!
Whether you like sport, going shopping, relaxing or making a night of it, you'll be satisfied anyway.
Downhill, cross country skiing, ice-skating, golf, swimming, trekking, mountain bike, horse riding, tennis, bowls, fitness and body building : these are only some of the several sports you can practise in Bormio during the whole year, thanks to the nearby Stelvio glacier, which is less than half an hour from Bormio.
The town centre is full of trendy pubs and discos, all of them close to eachother, very easy to reach from all over Bormio, where you can have fun all night long.
And after such a night nothing's better than relaxing and taking care of oneself at the Bagni Vecchi or Terme Bormiesi, enjoying thermal waters and hot springs.
Bagni Vecchi is a wonderful spa lately renewed and with a very old tradition, situated in a charming location surrounded by beautiful mountains.
Terme Bormiesi on the other hand, offer an equipped fitness centre and a great experience in spa.