Families in Bormio, what to do?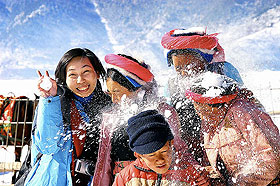 It's not common to find a resort which brings the whole family together when speaking about holidays. Well, Bormio does it!
Dad is a sportsman , mum likes relaxing instead ? Or viceversa? Kids are nearly boys and they'd like to be more independent?
No problem, Bormio has a proposal for every taste.
Not only sports, but a beautiful old foot-path in the town centre full of fashion shops, two spa , Bagni Vecchi and Terme Bormiesi, with different features, the first one set up mainly on beauty and wellness, the second set up on thermal treatments.
Besides this, in winter and summer there are several interesting folk and cultural events in town.
Last but not least, being all shops, pubs and utility services very close to eachother around the foot-path, you can be quiet if your children want some more freedom, Bormio is a safe town.