Bormio Hot Springs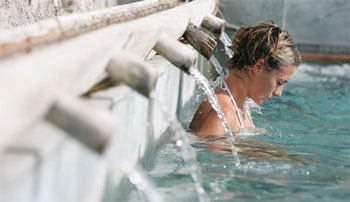 Sport, entertainments, culture, cookery, relax, health and beauty.
Which resort can offer you such a wide choice?
And the spa plays a very important part among all these attractions. You may enjoy hot springs rich of healthy features.
A simple swim becomes a relaxing and toning up bath at the same time. and if by any chance you breath in some water, don't worry, irrigations are ideal to avoid cold and flu.
If you aren't fond of swimming you can relax in the whirlpool or dedicate a whole day to wellness choosing among muds, massages, fisiotherapy, balneotherapy, mineral water cure and much more.
Links:
Terme di Bormio
www.terme.bormio.it