Bormio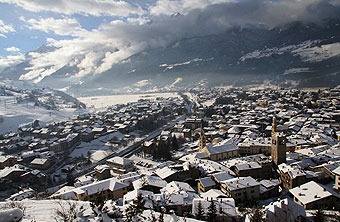 A bright cradle in the heart of the Alpi Retiche, amazing show of the nature with the "Contea" (county) of Bormio inside it.
Mountain resort at 1225 m above sea level, small town full of history and art, famous ski resort where world-wide level competitions take place, thermal area apreciated since ancient times: all this is Bormio, still there's much more...
A pleasant ancient time with a footway inside, full of shops, pubs and restaurants perfectly fitted in the old architecture.
Having a walk in the centre, the atmosphere you breath is full of tradition and sparkling at the same time, typical of a ski resort and also of a town living all year round.